Fun games for an Interactive AR Sandbox

Volcano
The volcano comes to life in the crater, flowers come to life and butterflies fly


Underwater
Underwater inhabitants live in the ocean, we study the diversity of the sea.

Dinosaur
Ancient dinosaur excavation will show us the complete skeleton of the Raptor

Turtle
Help the turtle dig out the egg and collect them all


Underground Animals
Modern interactive sandbox with bright and high quality games

Farm Mode
Modern interactive sandbox with bright and high quality games.

Deep space
Find all hidden crystals in deep space. Crystals change place


Dinosaurs
Modern interactive sandbox with bright and high quality games

African Animals
Modern interactive sandbox with bright and high quality games.
We create individual games
We create individual games, the cost is discussed separately, we are trying to make a cheap and high-quality projects. You can send your graphic materials or our designer will create individual illustrations for you.
Games included in the sale package. Package price $ 450

Games included in the sale package «View here»
Watch a video of how the Interactive AR sandbox works
Interactive AR Sandbox
We equipped an ordinary sandbox with a computer, special sensors (sensors), a projector and developed special software. High-precision depth sensor measures the distance from the projector to the sand; the computer processes the data received from the sensor - and gives the projector a command with which color to highlight the specified area of ​​the sandbox. As a result, islands and valleys bloom and bloom on the sand, rivers flow into the oceans, volcanoes erupt, dinosaurs come to life and whirlwinds of tornadoes are spinning. Little creators create their own world, which can be changed with one movement of the hand.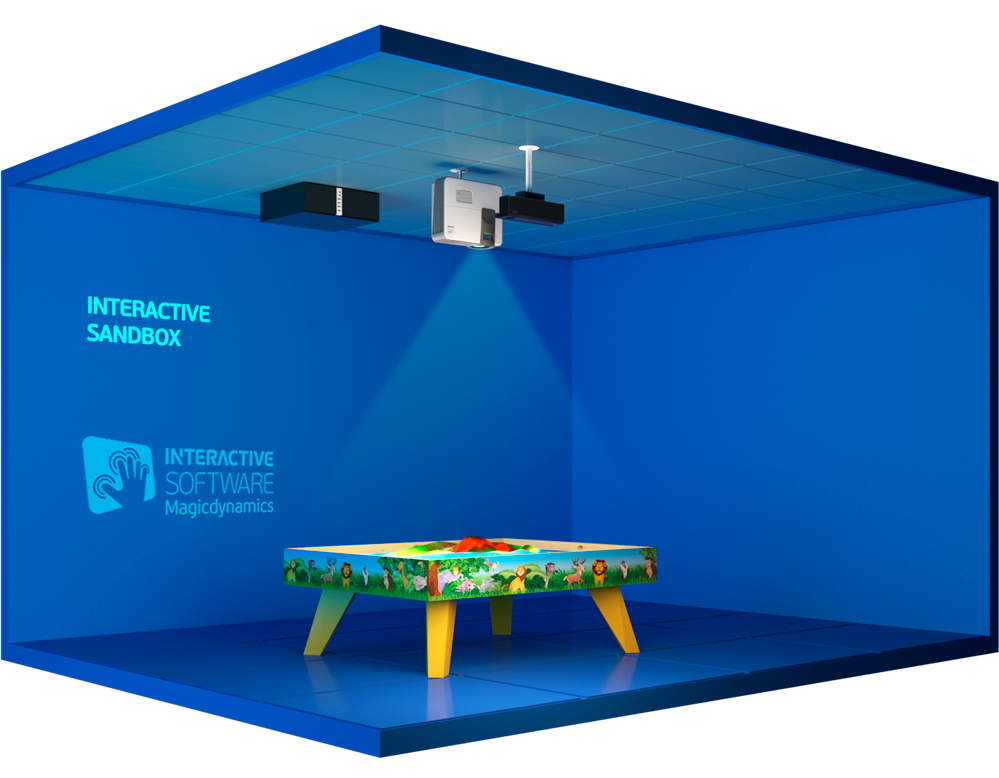 Necessary equipment
The equipment necessary for the work is produced all over the world by well-known brands and has a long working life.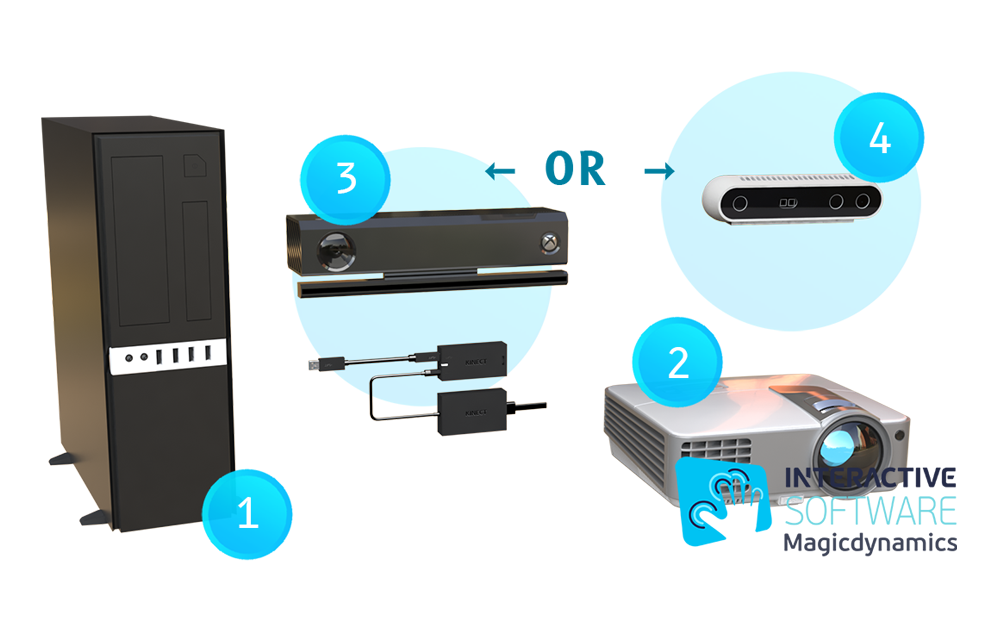 Equipment list
PC: Amd Athlon 200GE/ 4GB/ 240 ssd/ or higher. Windows 10,11 . Video card only Nvidia gt 1050 or higher
Projector 4500 ANSI Lumens. Resolution 1024x768. Aspect Ratio 4:3. Recommend Throw Ratio 1.60:1. Sample model Panasonic PTVX430 or Projector 3,000 ANSI Lumens or brighter. Resolution 1920x1080. Aspect Ratio 16:9. Recommend Throw Ratio 0.69:1 - 0.83:1. Sample model BenQ TH671ST. Any projector can be used
Microsoft Xbox One Kinect Sensor. Buy here + Xbox Kinect Adapter for Xbox One S/Xbox One X Windows 10 Power AC Adapter PC . Buy here.
Intel® RealSense™ D415. Buy here
Recommended multitouch monitor ASUS vt168h (or other) for additional control of menu games. When the monitor is connected, the games menu will be on the monitor, the games will be on the sand.

Assembly with a Kinect or RealSense camera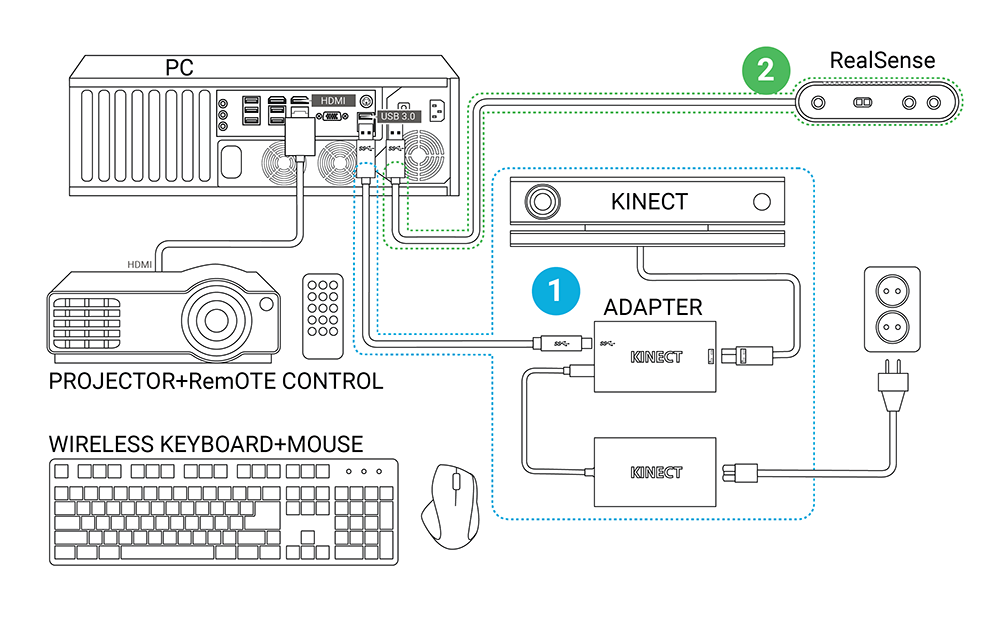 Example of camera height above sand
Kinect has a larger viewing angle and better quality of work. Realsense has a smaller angle of view.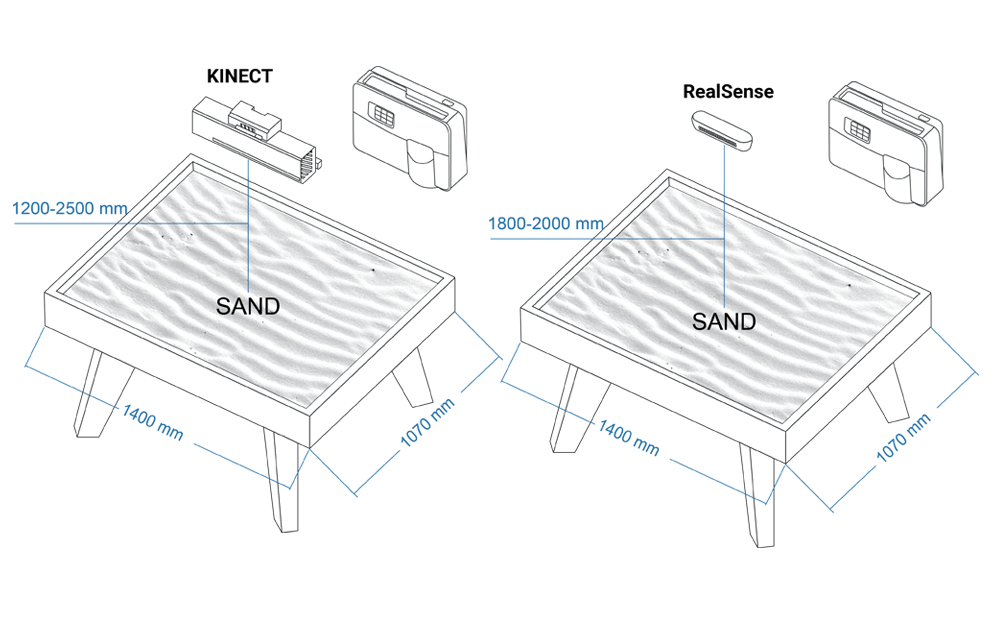 Wireless control on your mobile device
You can use a tablet, mobile phone, or any other device that can connect to a Wi-Fi network. First, connect your computer with the Sandbox software and your mobile device to the public Wi-Fi network. It is important that the name of the Wi-Fi network is the same on a computer and a mobile device.
The next step is to install the screencasting software on both devices. We use and recommend this
Spacedesk app
Install Spacedesk on your computer and in the Play Market or App Store install the Spacedesk application on your mobile device.
Once installed, open Spacedesk on your mobile device and connect to your PC. You may need to customize your Windows display settings. Make sure the projector is in the home screen and the setup is ready to go.
Below you will find a video tutorial with step-by-step
instructions
.
How to set up and use AR Sandbox

Calibration AR Sandbox
We will show the setting in detail step by step


Interactive Launcher
The ability to quickly select a game, start and stop the game


Assembly equipment
How to make an augmented reality sandbox DIY

Technical support
info@interactive-software.pro
Download and test games.
Link to app Google Play


First step
Please choose which product you are interested in for the test, where it is planned to be used, it is important to understand what we can offer, since we have three types of equipment for touch recognition and scanning. Send this information to us by email.
Second step
For the software to work, you must have a computer not worse than the specified characteristics: Amd Athlon 200GE / 4GB / 250 ssd / or higher. Windows 10 64-bit. Video card only Nvidia gt 1050 or higher
To recognize touches in the game, you must have, depending on the type of location of the game (wall, floor, sand or other), such equipment, the first option or the second:
1) Microsoft Xbox One Kinect Sensor As an example buy here «Sensor»
with Xbox Kinect Adapter for Xbox One S / Xbox One X Windows 10-64 Power AC Adapter Buy here «Adapter»
2) RPLIDAR A2M7 360 degree. As an example buy here «RPLIDAR»
Any projector can be used for the test. As an example calculator «Calculator»
Technical support will send you software, you need to download it to your computer. Then provide remote access by «Team Viewer» , send ID and password. We will install the software package for you for a free test of 14 days.
Third step
If you like the program and how it works, we will send you an invoice for payment. We receive your payment and send you an activation key with no time limit for your computer. The activation key is tied to your computer.
Fourth step
Additional software package can be purchased separately. The package is installed as an additional section of games in the manager.
license
More information about the license : View PDF
It is possible to pay for the software via bank transfer, before sending you an invoice, please write the country in the letter. The country is necessary to understand which bank is better to indicate in the invoice, it depends on taxes.
The license to use the software is transferred in the form of installing a "software" key on the client's computer. The key makes it possible to execute the installed programs. The key is "tied" to the computer components: motherboard, hard disk, etc. When trying to clone the contents of a hard drive (or when replacing a large a number of components on the computer with the key installed), the key will be blocked, and the ability to run programs will stop.
More information about the license : View PDF
If you need to transfer an already installed key from one PC to another (if the current one breaks down), you need to contact technical support email info@interactive-software.pro